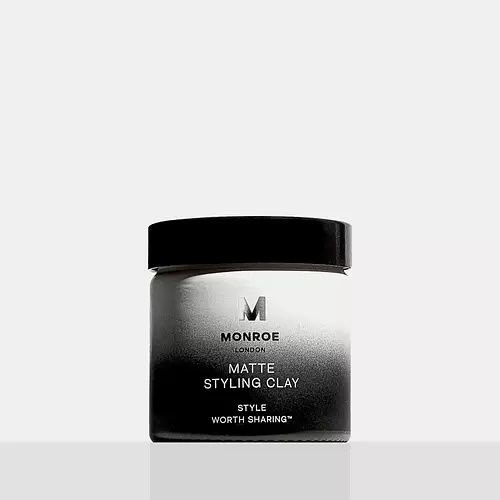 Welcome to our explanation of everything that you need to know about Monroe Skincare Matte Styling Clay. Let's get started!
Brand country
British
Description
vegan other haircare that contains exfoliants.
it doesn't contain any harsh alcohols, oils, parabens, silicones or sulfates.
it does contain common allergens and fragrances.
it is reef safe.
it is not fungal acne (malassezia) safe.
Product Info
Click on the items below to learn more and view relevant ingredients.
Alcohol Free
Some harsh forms of alcohol can break down your skin's natural barrier with prolonged use.
This product is free of harsh alcohols 🎉
Silicon Free
Silicones are a colorless substance derived from the silicon mineral used to help boost the appearance and feel of a product.
This product is free of silicons 🎉
Contains Fragrance
Fragrances are the ingredients in your skincare that either neutralize bad scents or are used to make a product smell good. Fragrances come in 3 forms: synthetic, natural, or essential oils.
Ingredients in this product that are forms of fragrance:
Sulfate Free
Sulfates are a type of salt mainly used as cleaning agents in skincare.
This product is free of sulfates 🎉
Paraben Free
Parabens are a type of preservative to preserve shelf-life and prevent growth of bacteria in products.
This product is free of parabens 🎉
Oil Free
Oil is a hydrophobic (water-repelling) substance that can help regulate sebum production in skincare.
This product is free of oils 🎉
Not Malassezia Safe
Malassezia (Pityrosporum) folliculitis is a skin condition with acne-like breakouts caused by malassezia, a type of yeast.
Ingredients in this product that are not malassezia safe:
Reef Safe
Many factors affect if a product is reef safe, including the particle size of ingredients. We do our best to ensure our data is accurate, so please get in touch if you spot an error.
This product is free of ingredients that damage reefs 🎉
Contains Eu Allergens
A list of the most-known allergic substances from the European Union's Cosmetics Regulation 1223/2009.
Ingredients in this product that are EU allergens:
Vegan
Vegan products are formulated without animal products including honey, dairy, eggs, and more.
This product is vegan 🎉
Not Cruelty Free
Cruelty-Free is a label that certifies a brand is not testing products on animals.
This product is not cruelty-free 😥
Ingredient Details
Here's a breakdown of the benefits, notable ingredients, and drawbacks that we found with Monroe Skincare's Matte Styling Clay.
Benefits (0)
Our analysis didn't find any major benefits with the ingredients in this product. However, t his doesn't mean there aren't any! We suggest doing further research.
Notable Ingredients (1)
Concerns (1)
Monroe Skincare Matte Styling Clay
Ingredients Explained
This product contains 20 ingredients. Click on any ingredient to learn more about it
Embed Ingredients
Beautiful widgets for your website
Add this ingredient list to your site in seconds ✨